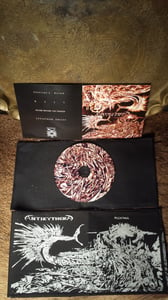 $

10.00
2nd Album - "PLEROMA" from AntikytherA. Recorded in Portland Oregon in May / June 2013 thru July 2014
Limited Tour Run Copies made.
Casing is made of a solid black Fabric with Album art screen printed on. This makes the Casing a Patch as well. Inside is the CD and the printed Album art work.
Picture shows from bottom to top :
Outer Casing + Albim Artwork screen printed / Patch.
Inside of the Casing where the CD slips into.
The Inner printed 4 panel Album Art Work - Cover / Back / Inside with Lyrics +
Very Unique Limited Run of this album until the Record Vinyl Version comes out.